Gambling with acne elimination is a mistake that you should not make! Instead, you should evaluate natural acne elimination techniques and pick the most suitable for your skin. If you have never used a product before, you should not go into it before hearing several reviews from reliable sources.
Even then, you need to realize that your skin is different from others and you should thus not cover the entire skin with the product; skin sensitivity test is a must!
First, apply a small amount of the product on a small part of your skin and then let it sit for some time. If there is no inflammation, itchiness, or redness, then you can use the product on your skin.
Natural acne elimination methods are largely friendly to your skin compared to the use of other inorganic substances. As such, I recommend that you first use this approach and only turn to other medicines as the last resort.
However, if you've used the natural methods to no avail, you should talk to a doctor before using any other product. We will highlight 5 natural acne elimination techniques that will restore your smooth and glowing skin fast!
5 Natural Acne Elimination Methods
If you need to get rid of that acne without using conventional medicine, then you're on the right page!
We will break down the food you should avoid to enhance the healing process. Also, this article will elaborate on top natural acne elimination strategies that will undoubtedly give you relief. Read on to learn more:
Eat Healthy Meals. The golden rule of ensuring that you win the fight against acne is ensuring that you do away with foods that are likely to exacerbate the situation. Instead, you should adopt a diet rich in essential oils and probiotics. Some of the foods you should avoid include gluten-rich meals, dairy products, sugary food, and hydrogenated oils.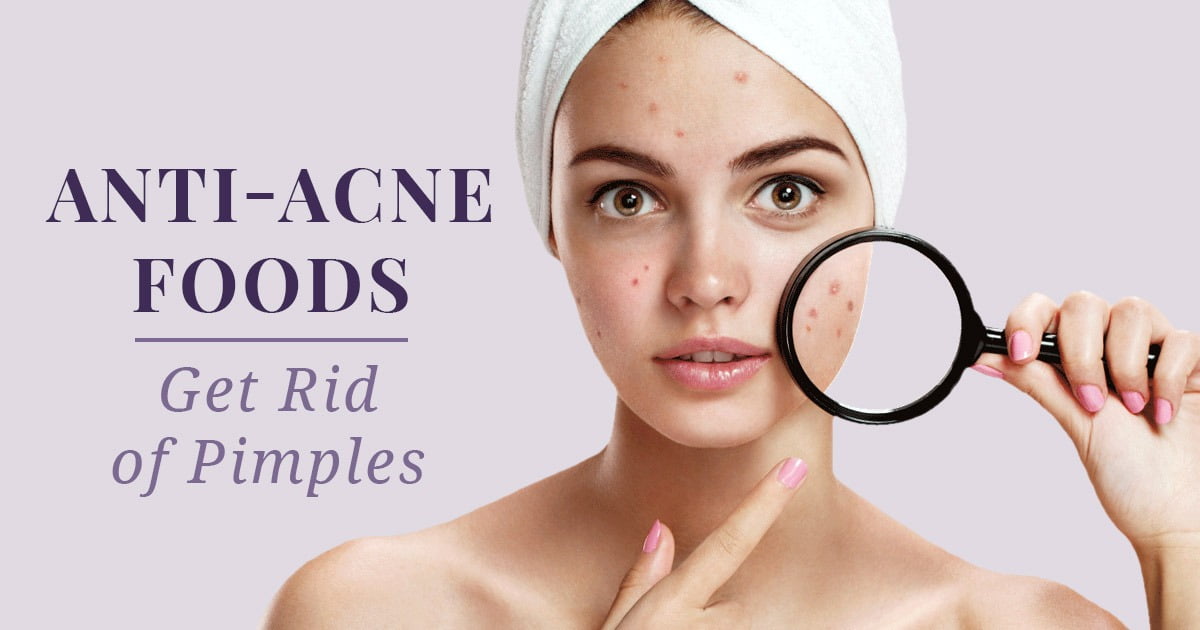 Keeping your gastrointestinal tract (GIT) clean is a necessary requirement for maintaining a healthy skin. As such, you should eat easily digestible food and drink plenty of liquids. Occasionally, you can boost your GIT flora by taking probiotics or drinking sour milk/yogurt. 
Some of the foods that we highly recommend include fiber-rich food such as chia seeds, vegetables, almonds, sprouts, and flax seeds; healthy fats such as almond oil and coconut oil; vitamin A-rich foods such as cantaloupe, mangoes, carrot juice, papaya, oatmeal, red bell peppers, peaches, spinach, and tomato juice; and zinc-rich foods such as cereals, oysters, baked beans, crab, and pork shoulder.
Also, it is crucial that use green tea regularly either as a drink or for facial application. When in the beverage form, this tea will help to eliminate toxins thus leaving your skin smooth.
On the skin, the tea reduces inflammation which ensures that the acne resolves much faster.
Keep your Skin Clean. Acne are primarily caused by the blocking of skin pores by debris. If you regularly clean your face, you will significantly reduce their severity. However, you should note that the presence of acne does not always signify a dirty skin. There are other factors that fairly increases the chances of developing acne including genetics, hormonal changes, and environmental factors.
Acne are not necessarily a sign of a dirty skin!
The skin is a sensitive organ and you should avoid experimenting with new products.
We recommend that you use your regular soap or a cleanser and clean water to clean the skin at least twice daily.
Also, you should exfoliate your skin to remove dead skins. Note that scrubbing your skin too hard may actually worsen the situation. As such, you should apply gentle pressure on the skin when exfoliating.
Different exfoliating products are made for different skin types! Be on the lookout to pick the one that suits you best.
Always ensure that you check the manufacturer's instructions before buying a scrub. If you do not know your skin type, you can visit how to determine skin type for more information.
Ensure that you only pick the product that is labeled to be convenient for use with your skin type. You should exfoliate your skin a maximum of two times a week to avoid skin trauma. However, if you're sure that you have an oily skin, you can comfortably scrub it daily.
Get Enough Sleep! Having quality sleep is a prerequisite for a healthy skin. If you've started developing acne recently, you need to review your sleeping schedule. You are required to have quality sleep which gives your skin time to relax and regenerate. In the process, you will have a smooth skin that is acne-free. You'll be surprised how the acne will disappear naturally within a few weeks after you improve your sleeping patterns.
Exercise Regularly. You need to step out and hit the gym! Well, that is not to mean that you are restricted to a gym though. You can engage in any exercise that will take your mind off the office setting and help your skin relax. When you exercise regularly, you'll sweat thus opening up the skin pores. The sweat also helps in removing the toxins that would have otherwise resulted in acne. As such, we recommend that you exercise at least thrice a week. Ensure that you shower immediately after the exercise to keep the skin pores open thus keeping your skin healthy and acne-free.                                                                                                                                                                                                                                                                           
Always Stay Hydrated. It doesn't matter which acne elimination method you choose: If you fail to ensure that your body is hydrated, you will not succeed! Drink plenty of fluids to prevent the accumulation of toxins in the body. As the body removes the excess water, it will flush out the acne-causing toxins thus ensuring that you have a healthier and acne-free skin. We recommend that you take approximately 8 glasses of water on a daily basis. Also, you should keep your skin moisturized by applying moisturizing products. When selecting the product, it is advisable that you choose that which has medicinal properties such as an Aloe Vera moisturizing cream.
Bottom Line
Living right is the most applicable method of ensuring an acne-free skin. Even if you were to receive the best treatment, you'll not eliminate the problem entirely until you start living right. Your diet should communicate your desire to have a healthy skin. Avoid those acne-causing foods that we've discussed here and instead eat the right food that will boost the health of your skin.
Also, ensure that you exercise regularly and keep your body hydrated! If you've tried everything else to no avail, I challenge you to adopt these strategies for free and you'll have a positive testimony in a few weeks! Take up the challenge and restore the glow of your skin.
Please follow and like us: